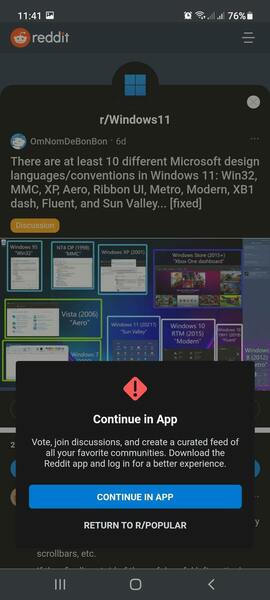 An overview of Reddits seemingly counter-productive changes.
Source: Reddit's disrespectful design
The author says, "I've stopped using Reddit mostly because I no longer wanted to support a site that has aggressively started to employ disrespectful design patterns." Excuse me, but "started?" They've been going down this road for years. I've stopped using Reddit entirely, and have the site blocked on my network, so that I can't inadvertently give them traffic by clicking through a search result, as they have obviously paid through the nose for placement these days! Just about everything I search on has at lease one Reddit link in the first page of results. For awhile, I would click through to the page, wait for the site to load it's 100 MB of scripts, dismiss the popups, expand the answers, and see what Google had supposedly found, but I gradually realized there is never a good answer on the site. Technical discussions are not what people are doing on the site.
500 comments on the HackerNews discussion about this post, and these are the only comments about porn:

This exchange is utter nonsense. Reddit is filled with porn. Thousands and thousands of subs are dedicated to it. If you have an account, and allow NSFW content — and take note that most of the viral posts on the site are marked NSFW, encouraging you to do so, even if you don't necessarily want to look at porn — all it takes is one search on the site, and you can instantly infer how much of it there is. Yes, a lot of it is come-ons for someone's paid site, but there is a virtually limitless supply of free, high-quality porn to accommodate everyone's tastes.
No one wants to admit this. I will. I've had a look around. It's bewildering how much of it there is, and how specific it can be. I've brought it up many times in various HN discussions, and no one even wants to acknowledge it. The exchange above is a perfect example of just ducking the issue entirely. In fact, the exact inverse of what's stated here is true: Reddit is a porn site, with some user-interest topics (like gaming, audiophile headsets, or mechanical keyboards) to keep you engaged between wanks. One of these days, I expect PornHub to take a note, and start forums on their site about whatever people want to talk about. Who knows? Maybe they already do. I've not "researched" that site.