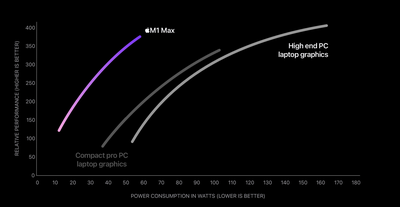 Source: M1 Max Chip May Have More Raw GPU Performance Than a PlayStation 5
So what?
Back in 2019, I was starting to think about an upgrade to my 2014 MBP, which is a darn-near perfect machine. (My son has it now.) However, I didn't want a TouchBar, nor to put up with a lack of a physical ESC key. There was never a "killer app" for the TB to make it interesting, and I use ESC extensively when running vim. So I thought I'd just wait, and see what the next generation would bring.
But then my wife started saying that we probably had the money for me to upgrade, and I don't need to be told twice. When your wife is open to you making a major purchase, you do it, even if you're not quite ready. So I bought a 2019 with an i9, 32 GB of RAM, 512 GB SSD, and a Vega 20, hoping beyond hope that it would play some AAA games passably well. The total was $4,000.
The only thing I was really playing on the PC at the time was Civilization V. It played it about as well as my old PC, so I just kept playing it on there, to keep the heat load off the MBP.
Then I started playing Elder Scrolls Online, so I tried it on my Mac. It stutters every few seconds, like it's texture thrashing, and I thought, well, Bethesda just didn't optimize it for the Vega, and that's too bad. But then I saw it running on a friend's 2020 MBP, with only integrated graphics, and it runs… pretty well, actually! So I spent an extra $750 upgrading to the best GPU I could get, and it actually made gaming on the Mac worse for me. So I continue to play ESO on a twelve-year-old PC with an Athlon64 and a nVidia 9xx-series GPU. The fact that this rig plays the game pretty well only adds salt to the wound that my expensive MBP basically can't play it at all.
The new MacBook Pro's look perfect, and base models start out about half the price of this one. Ouch. If I had just waited a couple of years, and given up on the stupid idea that gaming on a Mac is ever going to be a thing, I'd be in computing nirvana now.
Whatever "power" they may put in the thing, I just don't see gaming companies supporting it. Bethesda has already said that will not be porting ESO to M1. This isn't surprising. I mean, there were only a handful of AAA titles ported to Mac when they were running Intel CPU's and AMD GPU's. Now that both halves of the whole are completely different architectures than their PC brethren, I don't see any gaming companies making the effort.
Mac for programming. Playstation for gaming. Windows for ESO. God, I wish I could cut Windows completely out of my life. I've been tempted to move to PS for ESO, but I can't give up my investment, and I couldn't live without a whole slew of mods I rely on. I started playing ESO again because I've been shut in with health problems for a long time. Once I get better, if I would stop playing ESO again, I could put the PC back in the closet.
P.S. It's so great to see Apple responding to clamorous and sustained criticisms of their MBP hardware from power users in places like Hacker News. (Including last night's update to the Monterey public beta, which restores proper tabs in Safari.) It gives me hope that the platform will continue to be a good one for developers, and not be morphed into a mobile-like experience.
P.P.S. World of Warcraft has been ported to native M1. Maybe I should just switch MMO's. I wonder what New Worlds' situation is… Oh. Bootcamp. Nevermind. I didn't buy a Mac to run Windows. I dual booted my PC's between Linux for work and Windows for gaming for decades. No more. I think you should just buy a PC laptop if you're going to do that.